Girl Scouts
Girl Scout Activities
You must register and pay fees 2 weeks prior to the day of the workshop, and fees will not be refundable after that date.
Two leaders may attend free with the girls. Any other adult or child staying for the class must pay museum admission: $8 for adults, $7 for seniors, and $6 for children ages 3 to 18.
Girl Scout Programs
Pottery
Come play in some clay and earn your pottery badge in one day! Go on a scavenger hunt in the Museum to find pottery and how the pieces were used. Learn two clay building techniques: hand-built and slab, create a pinch pot and tile, then paint with underglaze.
Ages: Brownies and Daisies
Dates: Saturday, September 2 or Saturday, October 7, 2017
Time: 1-3 pm
Fee: Members: $14, Non-Members $19
Limit: minimum 15, maximum 20
Jewelry Badge
Join artist Mimi on a scavenger hunt to find jewelry in the Museum's exhibits. Mimi will guide you to make a pendant with a "caged" stone, design and fabricate a shell necklace, create a Claddagh style ring, and make a piece of jewelry for a friend.
Ages: Juniors
Dates: Saturday, September 23 or Saturday, October 21
Time: 1-3:00 pm
Fee: Members: $15 Non-Members: $20
Limit: minimum 10, maximum 15
---
A travel opportunity patch program, Oak Ridge Secret City Heritage, is now available through Girl Scout Council of the Southern Appalachians. This program includes a visit to Children's Museum of Oak Ridge. Visit the Girl Scout Council of the Southern Appalachians' website to learn the requirements for the patch.
---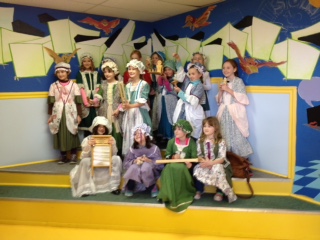 The Appalachian Tea Party held on March 28th
This slideshow requires JavaScript.
Fun at the recent Letterboxing class
---
See the box to the left for Girl Scout Activities registration options.