Plan Your Trip
There is so much to see and do at the Children's Museum of Oak Ridge. Join us for a fun and educational time for the entire family!
Hours:
The Museum is Open Year 'Round:
Tuesday – Friday: 9:00 a.m. – 5:00 p.m.
Saturday: 10:00 a.m. – 4:00 p.m.
Sunday: 1:00 – 4:00 p.m.
The Museum is closed on Mondays during the school year.
During June, July and August, the Museum is open on Mondays from 9:00 a.m. to 5:00 p.m.
Closed: New Years Eve, New Years Day, Easter, Memorial Day, Fourth of July, Labor Day, Thanksgiving Day, Christmas Eve and Christmas Day.
Admission Fees:
Adults – $8.00
Seniors – $7.00
Children 3 & Up – $6.00
Children under 3 – FREE
Members – FREE
Group Rate:
Children and parents/chaperones – $5.00
Teacher and bus driver – FREE
Attention, Teachers: for large groups visiting the museum, please divide up large groups into smaller ones. Download maps to start smaller groups off at different exhibits in the museum and follow the colored trail. We recommend using a landscape orientation for printing.
Map 1: Tour begins at Lobby
Map 2: Tour begin at Mars Rocket Room
Map 3: Tour begins at the Coal Mine
Map 4: Tour begins at the Ed Westcott Room
Map 5: Tour begins at the Waterworks
Map 6: Tour begins at the World of Trains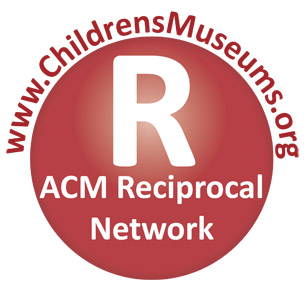 Children's Museum of Oak Ridge is a member of the Association of Children's Museum's Reciprocal Network.  Nearly 200 children's museums participate in this program.  See a LIST OF PARTICIPATING MUSEUMS  and view the POLICY GUIDE.
Effective April 1, 2013, the ACM Reciprocal Program admission benefit will change from free admission for up to four (4) family members from the same household (or, if applicable, local restrictions) to 50% off general admission for up to six (6) people with no location restrictions.
Winter Weather Policy:
The Children's Museum of Oak Ridge follows the same closing schedule as the Oak Ridge City Schools for closings related to bad weather.
If Oak Ridge schools are closed for the day the museum will also be closed. If Oak Ridge schools run two hours late, the museum will also open two hours later.
Food and Drink:
Although food and drinks are not allowed in the exhibits and classrooms at the museum, there is a designated area for eating in the gym lobby, and snacks and drinks are available for purchase.  In addition, there is a playground just to the left of the museum's parking area. Families are welcome to bring a picnic lunch and enjoy the playground.
Special Hotel Rates:
DoubleTree by Hilton Hotel in Oak Ridge, 215 S. Illinois Avenue, is offering a special rate to Children's Museum of Oak Ridge visitors.  Please click here for your special rate at the DoubleTree by Hilton Oak Ridge-Knoxville.