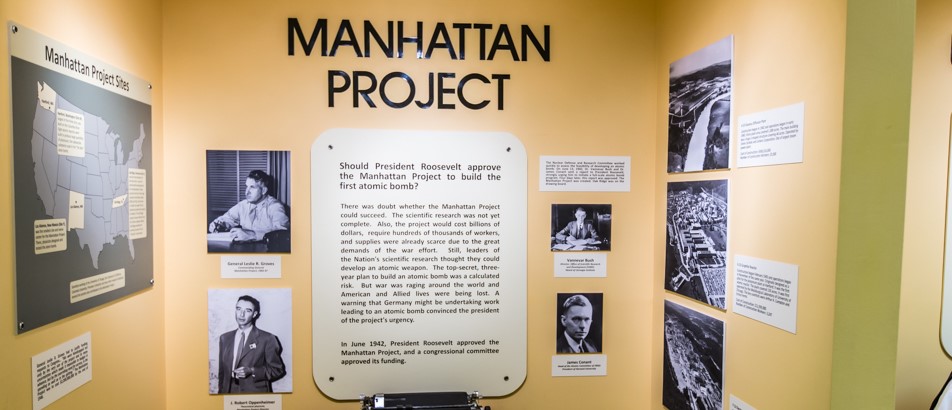 As the "Secret City," Oak Ridge played a major role in the development of the first atomic bomb, which helped the United States and its allies end World War II. This research and development initiative, known as the Manhattan Project, was responsible for establishing methods of uranium enrichment. Under the direction of Maj. Gen. Leslie Groves, Oak Ridge and its facilities sprang up in 1942 seemingly overnight, but its work and indeed its existence were closely guarded secrets. Only when the atomic bomb was used on August 6, 1945 did the residents of Oak Ridge realize what they had worked on and what they had contributed to bringing an end to the war.
Oak Ridge was built as a planned community, with dormitories, apartments, and prefabricated houses, and featured amenities such as restaurants, a library, churches, medical facilities, and clubs and organizations of all kinds.
Children's Museum of Oak Ridge's "Difficult Decisions" and "Manhattan Project" exhibits house many artifacts from the period and help tell the story of Oak Ridge.
This slideshow requires JavaScript.
(Photos by Rob Welton. )
On November 10, 2015, the city of Oak Ridge became one of three cities included in the Manhattan Project National Historical Park. On Thursday, November 12, the city of Oak Ridge celebrated the opening of the park with a ceremony at Oak Ridge High School. Students, including a girl wearing one of the 1940s Girl Scout uniforms from the museum's Joyce Maienschein collection, led the Pledge of Allegiance. (Login to Facebook and click here to see a photo of the uniform.) Dignitaries from the Oak Ridge area, the Tennessee Department of Tourism, the Department of Energy in Washington, and the National Park Service spoke at the indoor ceremony about the history of Oak Ridge and about the new park. Music from the 1940s was provided by the talented Oak Ridge Choral Ensemble. Click here to see the program from this event. Children's Museum of Oak Ridge is proud to be one of the organizations recognized for its contribution to the creation and opening of the Manhattan Project National Historical Park.
Later in the day there was a ribbon cutting to reopen the newly renovated Jackson Square and a re-creation of Ed Westcott's iconic "War Ends" photograph. Featured speakers included Rep. Chuck Fleischmann and Commissioner John Schroer from the Tennessee Department of Transportation. Ed Westcott was honored at both the indoor and outdoor ceremonies. Children's Museum is honored to have a permanent exhibit of Ed Westcott photographs. Photos from the Jackson Square event and the original 1945 photo can be seen on the WBIR website.